Snow Removal & Sanding
We are equipped to handle any snow removal needs.
Plow Trucks

Snowblowers

Shoveling

Skidsteers

Sanding Truck

Regular Routing

Weekend Routes

Call-Ins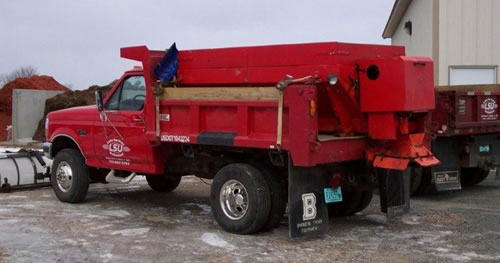 Snow Removal & Sanding
Lake Services Unlimited snow removal safely removes snow and ice so that you can travel with ease. Providing complete snow removal services such as snow plowing, shoveling, maintenance as well as clearing sidewalks driveways, salting, and removing ice. Equipped with state of the art commercial grade snow plows, pushers, front-end loaders, and skid steers, Lake Services Unlimited snow removal is available twenty-fours a day to assist you in relocating and removing snow from your site.
We provide snow removal services to both residential and commercial areas such as corporate offices, shopping centers, medical facilities, retail stores, and industrial properties. Our experienced team is available around the clock to assist you with all your winter service needs.
We are equipped to handle any sanding and snow removal service needs in the Amery, Balsam Lake, & surrounding areas.
Available throughout the entire snow season, our services are competitive and reliable. We offer a custom flat rate to ongoing customers as well as hand shoveling services as needed. Call us now to find out more about our services and to plan your snow removal schedule.
Equipment:  All our equipment is top of the line and always kept in perfect running order. Preventative maintenance is critical to the success of any professional snow organization.
Safety:  In our industry that operates exclusively when environmental conditions are at their worst, safety is paramount. Safety education is both respected and practiced by our snow technicians through regular scheduled safety meetings. ALL our plow trucks and skid loaders have flashing strobe lights to ensure our presence is noticed, even in low visibility conditions. We convey to our customers our safety recommendations for both our technicians and for their individual properties specific requirements