Landscaping Materials Dekorra Rock Enclosures
Dekorra Rock Enclosures
We're excited to present top-quality rock enclosures made with our all new textured material, Real Rock. This gritty, tough and variegated rock-like surface is astonishingly realistic and blends in with other natural textures – you truly have to see it to believe it. All Dekorra rock enclosures are made in the USA from recyclable materials.
Dekorra rocks are great to hide wells, water garden equipment, septic, utilities, irrigation, etc. They come in two versatile colors, many shapes & sizes.
More on Dekorra rock enclosures…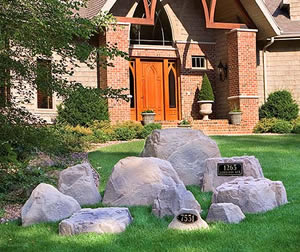 Custom engraved address and name plates available!
Built to Last
Our rock enclosures offer features that set us apart from our competitors.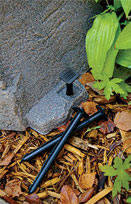 Our patented flange design secures the enclosure to the ground. Heavy-duty stakes are included with each model.
The sturdy reinforced edge around the bottom of each model adds weight and strength our competitors don't offer. Ours can withstand 100 lbs per square foot!
Delivery and installation of any landscaping materials is available.
We will also load your truck or trailer at no additional fee.